Get

high-quality equipment

you need - often at a lower cost
Our customers can buy with confidence, knowing we have nearly 50 years of
industry experience to back up every auction.
Find the heavy equipment
and supplies you need
Our industrial auctions attract all kinds of buyers from across the country. Whether you're looking for CNC machining equipment or warehouse supplies, you will find it fast.
Some of the benefits of buying with Myron Bowling Auctioneers:
Expansive and varied catalog of items
Considerable savings on equipment you need
Detailed descriptions from an experienced team
On-site equipment inspections
Bid online, in person, or by proxy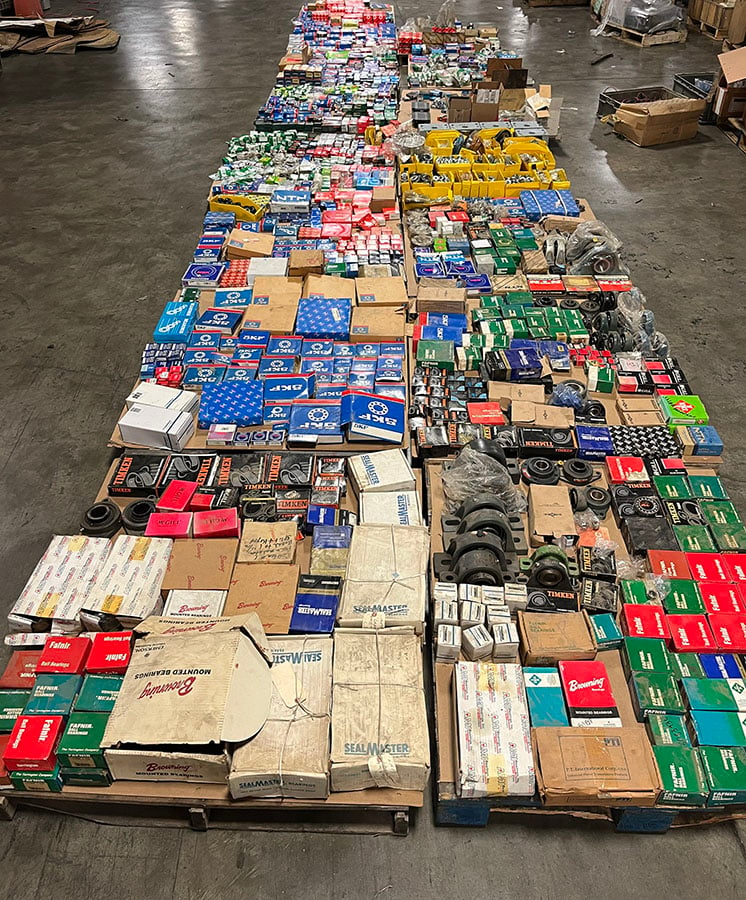 Register to bid
Anyone can register, free of charge, but you must do so at least 24 hours prior to the auction. Visit our list of upcoming auctions to register for the particular event you are interested in. Once you have completed the registration process and your deposit is received, Bidspotter will notify you via email that you are approved to bid.
Make your deposit
A deposit equal to 25% of your anticipated purchase or a
bank letter of guarantee is required to bid online.
We accept the following forms of payment:
Sorry, we do not accept credit card payments.



To initiate a wire transfer deposit, please call our office at
(513) 738-3311
to receive the bank information you need
to wire your payment.
Certified checks should be mailed to:
Myron Bowling Auctioneers
PO Box 369
Ross, OH 45061
Inspect items of interest
Everything sells "as is, where is." We recommend that you, or your representative, visit the auction site to inspect items of interest before auction day. Sale sites are opened up to buyers the day before the auction. If you are unable to make the general preview, contact us at (513) 738-3311 to determine if a private inspection can be scheduled.
Read the terms of sale
Each auction has its own particular timeline and terms of sale. Make sure you familiarize yourself ahead of time by reviewing details available in our list of upcoming auctions.
Have a plan for equipment removal
Removal is the responsibility of the buyer, and must be conducted in accordance with each auction's timeline and terms of sale.


Our employees are on site to supervise equipment removal, but they do not perform packing/crating, shipping, or rigging services.
A list of independent rigging services is provided for each upcoming auction. This list is not an endorsement, but rather, provided for your convenience.
Buyers or riggers using powered vehicles to move items must have a certificate of insurance on file with us in the amount of $1 million. This can be handled by mail, fax, or in person.
Myron Bowling Auctioneers and the auction site
must be named as additional insured.
Please remember:
No item may be removed until the last item has been sold.
All items must be removed by the posted date or be subject to storage charges and other fees.
What is the buyer's premium?
The buyer's premium is a small fee added to the winning bid for each item that goes directly to the auction house to cover sale costs.
Check the auction event details to determine the fee for each sale.
What is a bank letter of guarantee?
Company checks must be submitted with a bank letter guaranteeing payment.
Bank letters should meet the following requirements:
The letter must be on official bank letterhead, signed by a bank representative.
The bank must state that it irrevocably guarantees the payment of your check. Credit limits or balances will not be accepted as a guarantee.
The letter must include the name of the individual or company for whom the guarantee is being made, and the check or wire transfer should match this number.
The letter should contain the account number on which the check or wire transfer is to be drawn, and the check or wire transfer should match this same account number.
The letter should include an end date after which the letter of guarantee will expire (at least seven days from auction).
The letter must contain a maximum amount for which the bank will guarantee. The check must not be written for more than is guaranteed by the bank.
Please review a sample bank letter of guarantee and be sure the one you present meets the same standards.
Can I place a proxy bid?
Yes. If you are not available to bid at the time of the auction, you may place a pre-bid on our online bidding platform.
We will bid this amount for you at the auction.
How are auction items scheduled?
Auction catalogs, available on this website, list by number all items that are to be sold and the order in which the sale will occur.
We cannot predict selling times for specific items, though we do average approximately 100 lots per hour.
Occasionally, lots may be grouped together in one bid. This, of course, changes the average lots per hour.
Am I responsible for sales tax?
In most states and municipalities, Myron Bowling Auctioneers is required to charge sales tax.
In cases of an exemption for resale or manufacturing purposes, please email us for the appropriate tax-exemption form.
What is your policy regarding refunds and/or adjustments?
No refunds or adjustments will be made once items have been removed from the property.
All refunds or adjustments are at the discretion of the auction company.
Small items left longer than 24 hours are not subject to refunds.
Is security provided?
Myron Bowling Auctioneers provides security for the entire removal period. However, we will guard small items for only the initial 24 hours.
All claims must be made on site and reported to a representative of Myron Bowling Auctioneers.